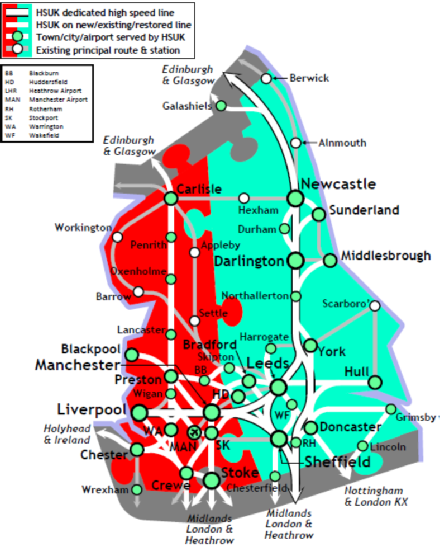 High Speed UK - Links to the North West
HSUK's transpennine main line via the abandoned Woodhead corridor will provide a new direct route to link Manchester and Liverpool to Sheffield and Leeds, and onwards via HSUK's Anglo-Scottish spine route to most other UK regions.
This new route will be supplemented by a far-reaching upgrade of the existing Manchester-Stoke-Birmingham route, to reduce Manchester-Birmingham journey times to below 1 hour.
Central to the HSUK initiative are radical proposals to transform east-west links across Manchester:
 HSUK's man line will pass in tunnel under central Manchester, with new underground platforms at Manchester Piccadilly.
 The existing terminating branch to Manchester Airport will be transformed into a through loop, creating a second new cross-Manchester route and vastly improving airport links.
 Routes in south Manchester will be reinstated to connect to the restored Woodhead route and create a dedicated coast-to-coast freight railway.
For further information please refer to: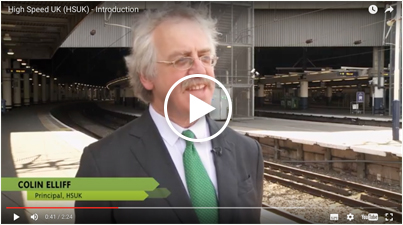 "HS2 modelling is shocking, biased and bonkers."
Margaret Hodge, Chair, Public Accounts Committee

"No economic case for HS2... it will destroy jobs and force businesses to close."
Institute of Economic Affairs