CHEAPER
£20bn less than existing plans for HS2 & HS3.
BETTER CONNECTED
Improves 94% of journeys and reduces journey time by an average of 40%.
CLEANER
Saves 600 million tonnes of CO2 and avoids the Chilterns AONB.
SMARTER
Improves regional rail across the UK and integrates with the existing rail infrastructure.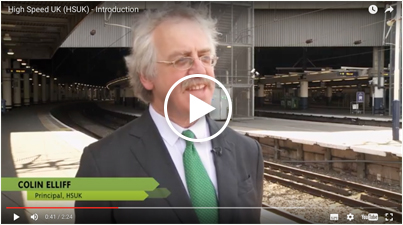 "HS2 modelling is shocking, biased and bonkers."
Margaret Hodge, Chair, Public Accounts Committee

"No economic case for HS2... it will destroy jobs and force businesses to close."
Institute of Economic Affairs




15. How can you claim that HSUK is best for the Midlands?
HS2 will only effectively serve the Midlands if it can:
 improve links from Midlands cities to other UK cities;
 improve links between Midlands cities;
 achieve integration with the existing Midlands rail network.
HS2's failure can be very simply demonstrated by the fact of the very few stations that it will serve, and their isolation from the existing network. HS2 will only serve the following 4 stations:
 Birmingham Curzon Street – located in central Birmingham, but isolated from the existing New Street station.
 Birmingham Interchange – located close to Birmingham Airport, remote from most population centres.
 East Midlands Interchange – located remote from the centres of Nottingham and Derby, and nowhere near Leicester.
 Crewe Hub – strictly speaking not even in the Midlands, and remote from the nearby Potteries conurbation.
HS2 will not create a single direct link between any pair of Midlands cities. See the HSUK Midlands Challenge.
Moreover, notwithstanding the publication of glossy official reports, no credible plans have yet emerged to indicate how HS2 can be effectively integrated with the existing rail network. As a result, most of the Midlands population, including those living in the major cities of Leicester, Coventry, Wolverhampton, Walsall, Stoke, Derby and Nottingham, will be left isolated from high speed services.
The situation will be transformed under HSUK proposals for the Midlands. All of the major communities left bypassed and isolated by HS2 will be integral elements in both the regional and the national high speed networks that HSUK will create. In particular HSUK will establish a 'Midlands Ring' that will connect all the principal cities of the East and West Midlands. See HSUK proposals for high speed services in the Midlands.
For further details refer to the HSUK West Midlands Rail Strategy and East Midlands Rail Strategy.