CHEAPER
£20bn less than existing plans for HS2 & HS3.
BETTER CONNECTED
Improves 94% of journeys and reduces journey time by an average of 40%.
CLEANER
Saves 600 million tonnes of CO2 and avoids the Chilterns AONB.
SMARTER
Improves regional rail across the UK and integrates with the existing rail infrastructure.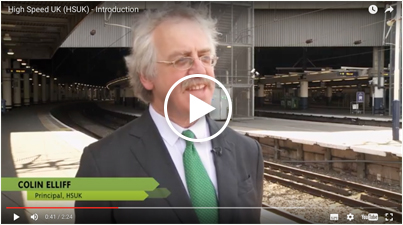 "HS2 modelling is shocking, biased and bonkers."
Margaret Hodge, Chair, Public Accounts Committee

"No economic case for HS2... it will destroy jobs and force businesses to close."
Institute of Economic Affairs




3. Why is HSUK's proposed 'spine and spur' network more efficient than HS2's 'Y-network'?
HSUK's spine and spur concept is far more effective at interlinking the UK's many regional conurbations. HSUK's spine route, located on the east side of the Pennines, links London to the East Midlands, South Yorkshire, West Yorkshire, the North-East and the Central Belt of Scotland. With a transpennine spur connecting Manchester and Liverpool, and upgrades of routes to Birmingham, and onwards to Bristol and Cardiff, all of the UK's principal conurbations can be fully interlinked. This is what high speed rail is supposed to do – to deliver "hugely enhanced capacity and connectivity" (in the words of former HS2 Ltd Technical Director Andrew McNaughton) and thus bring about major economic benefit for the UK regions.
By contrast, HS2's 'Y-network' represents a massively inefficient solution which will fail to interconnect most regional communities, and which will only succeed in making it faster to get to London. As such, it would seem likely to suck economic activity out of the UK regions – precisely the reverse of what it is intended to do.
See our connectivity comparisons between HSUK and HS2.