CHEAPER
£20bn less than existing plans for HS2 & HS3.
BETTER CONNECTED
Improves 94% of journeys and reduces journey time by an average of 40%.
CLEANER
Saves 600 million tonnes of CO2 and avoids the Chilterns AONB.
SMARTER
Improves regional rail across the UK and integrates with the existing rail infrastructure.
















The Government wants to build HS2, a Y-shaped system of high speed lines linking London and Birmingham with Manchester and Leeds. The Government believes that HS2 will transform UK transport connectivity, and thereby comprise an 'Engine for Growth' that will deliver huge benefits to the UK economy.
But when we look at HS2, a super-fast, super-sized railway that is almost completely disconnected from the existing railway system, and poorly connected to other transport networks, it becomes a little difficult to see how these huge benefits will come about. HS2 also completely fails to comply with the most fundamental environmental legislation.
The problem is that there seems to be no co-coordinating statement of values, objectives and principles to guide the development of the HS2 project – or to account for why it is the way it is.
So this poses the burning question: if HS2 is the answer, what on earth was the question?
The promoters of HS2 say:
"The aim of the HS2 project is to deliver hugely enhanced capacity and connectivity between our major conurbations."
However, the promoters must confront a highly inconvenient truth. HS2's aim of "hugely enhanced capacity and connectivity" is in fundamental conflict with its remit, essentially to build a stand-alone high speed line from London to the West Midlands. Even in conjunction with Northern Powerhouse Rail (HS3), HS2 does not deliver the basic connectivity and capacity necessary for the modern well-connected rail network which is essential for a prosperous Britain.
The designers of HSUK say:
"HS2 represents an unprecedented failure of railway engineering."
HSUK fully supports the Government's commitment to build a new generation of high speed lines. However, HS2 is the wrong solution in the wrong place. It will not provide the extra capacity and connectivity either to drive economic growth, or reduce transport CO2 emissions in line with the requirements of the 2008 Climate Change Act. HS2's introduction threatens the fundamental integrity of the UK rail network.
Neither the Government nor the 650 MPs in Parliament understand this problem. This is because their experts at the Department for Transport and HS2 Ltd do not understand the problem either, and have given them the wrong advice. The wider British public sense much that is deeply wrong with HS2; it will cost too much, benefit too few and take far too long to deliver.
This is why High Speed UK has been developed; it is different, better and cheaper than HS2.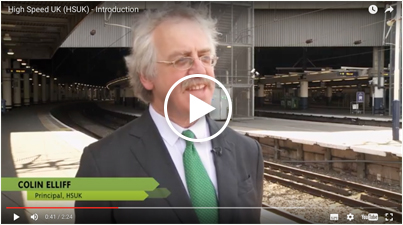 "HS2 modelling is shocking, biased and bonkers."
Margaret Hodge, Chair, Public Accounts Committee

"No economic case for HS2... it will destroy jobs and force businesses to close."
Institute of Economic Affairs