CHEAPER
£20bn less than existing plans for HS2 & HS3.
BETTER CONNECTED
Improves 94% of journeys and reduces journey time by an average of 40%.
CLEANER
Saves 600 million tonnes of CO2 and avoids the Chilterns AONB.
SMARTER
Improves regional rail across the UK and integrates with the existing rail infrastructure.
















HSUK wants to see:
All of the UK's principal cities interlinked with direct, high quality intercity trains, running at hourly (or better) frequencies.
High speed services extending onto the existing network to maximise the connectivity benefits to the greatest possible population.
Optimised interchange with local public transport networks at existing city centre hubs.
Direct high speed links from all of the UK's principal cities to Heathrow.
Improved links to regional airports, especially Birmingham, Manchester and Edinburgh.
Direct links to HS1 at St Pancras, allowing the possibility of future direct services from UK regional cities to Europe.
A parallel freight network established along enhanced existing routes, capable of accommodating larger 'Continental'-sized wagons.
All this is necessary to create the enhanced transport connectivity and capacity essential for sustainable economic growth and modal shift from road to rail – thus delivering step-change CO2 emission reductions in line with the requirements of the 2008 Climate Change Act.
This goes far beyond the vision and ambition of the HS2 project – but our studies demonstrate clearly that our aims are achievable at lesser cost and in a shorter timescale than is projected for HS2. Quite simply, less is more.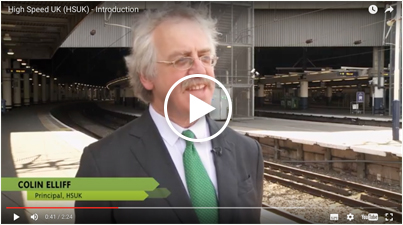 "HS2 modelling is shocking, biased and bonkers."
Margaret Hodge, Chair, Public Accounts Committee

"No economic case for HS2... it will destroy jobs and force businesses to close."
Institute of Economic Affairs