CHEAPER
£20bn less than existing plans for HS2 & HS3.
BETTER CONNECTED
Improves 94% of journeys and reduces journey time by an average of 40%.
CLEANER
Saves 600 million tonnes of CO2 and avoids the Chilterns AONB.
SMARTER
Improves regional rail across the UK and integrates with the existing rail infrastructure.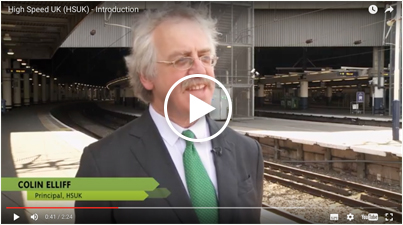 "HS2 modelling is shocking, biased and bonkers."
Margaret Hodge, Chair, Public Accounts Committee

"No economic case for HS2... it will destroy jobs and force businesses to close."
Institute of Economic Affairs




10. Why has HS2 Ltd chosen 400km/h as the speed for which HS2 infrastructure will be designed?
Only HS2 Ltd, and in particular its former Technical Director Andrew McNaughton, can give a full and proper answer this question.
However, we would speculate that a technology-driven desire to build the fastest railway in the world appears to have blinded the leadership of HS2 Ltd to the true costs of design for extreme speed:
 Energy use rises with the square of speed. So a train running at 400km/h will consume 23% more energy, and cause 23% more CO2 emissions, than a train running at 360km/h – and 78% more than a train running at 300km/h.
 Wear and tear, technical risk and noise nuisance tend to rise at even higher exponentials.
 Each increment in speed requires an ever-straighter track alignment which will demand higher embankments, deeper cuttings and longer tunnels and viaducts, and therefore higher construction costs.
 This in turn increases the cost of the necessary environmental mitigations.
 Each increment of speed results in ever-smaller journey time savings.
 It is inconceivable that any businessman's or businesswoman's time is so valuable that the extra costs and impacts can be justified.
However, the greatest effect of increased design speed is that it drives the high speed line away from established transport corridors. This both massively increases construction costs, and also prevents effective integration between the HS2 and the existing network. Development of the HSUK 'exemplar alternative', designed for 360km/h maximum speed, demonstrates conclusively that:
 HSUK costs over 25% less to build. See the HSUK Cost Challenge.
 The fully integrated HSUK offers 46% average journey time reductions, whereas the segregated HS2 offers 8%. See HS2 – High Speed to Nowhere.
Extensive review of HS2 documentation reveals no structured consideration whatsoever of the influence that design for extreme speed has on the overall performance of the national rail network. It seems simply to have been assumed that the faster the HS2 trains go, the faster the overall national network will operate. This assumption is comprehensively discredited by the detailed analysis undertaken by HSUK. Please refer to the HS2 Speed Paradox.