CHEAPER
£20bn less than existing plans for HS2 & HS3.
BETTER CONNECTED
Improves 94% of journeys and reduces journey time by an average of 40%.
CLEANER
Saves 600 million tonnes of CO2 and avoids the Chilterns AONB.
SMARTER
Improves regional rail across the UK and integrates with the existing rail infrastructure.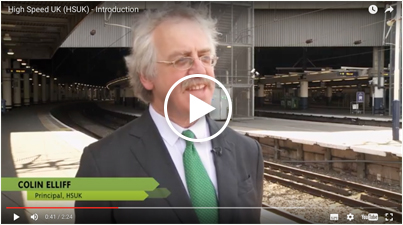 "HS2 modelling is shocking, biased and bonkers."
Margaret Hodge, Chair, Public Accounts Committee

"No economic case for HS2... it will destroy jobs and force businesses to close."
Institute of Economic Affairs




17. How can you claim that HSUK is best for Scotland?
HSUK's superior Scottish connections can be demonstrated most simplistically by the fact that HSUK has developed detailed proposals for its high speed line to Scotland and for the hourly (or more frequent) high speed services that will directly connect Edinburgh and Glasgow to most principal UK cities – whereas HS2 Ltd has yet to publish detailed and credible proposals for any cross-Border high speed line to Scotland, and on current service projections it will offer direct links from Edinburgh and Glasgow to London and Birmingham, and to no other UK city.
The projected HS2 route to Scotland has always been compromised by HS2 Ltd's assumption – as shown on all diagrams of the HS2 'Y-network' – that this route would be located to the west side of the Pennines, following the corridor of the existing West Coast Main Line through the mountains of the English Lake District and the Scottish Southern Uplands. This topography is difficult enough for an existing 200km/h-capable main line – but for a high speed line, even one designed for a 'conventional' high speed of 300km/h, it would be necessary to build a major proportion of the route length in tunnel, to avoid the unacceptable environmental damage of surface construction. HSUK analysis indicates that a tunnel around 60km long, from south of Kendal to north of Penrith, would be required.
Major inefficiencies would also be introduced by the splitting of the route in Upper Clydesdale (near Carstairs) for Edinburgh and Glasgow. This 'Carstairs split' would make it unviable to offer hourly services from Edinburgh and Glasgow to any English regional city, and effectively impossible for high speed services to extend north of the Forth-Clyde line, to cities such as Aberdeen and Inverness.
These issues are summarised in the HSUK Scottish Challenge.
By contrast, HSUK's east-sided route, located in easier topography, would require much shorter lengths of tunnel, and – with Newcastle, Edinburgh and Glasgow located on an efficient 'single line of route' – it will be feasible, and viable, to offer high speed services, at hourly or better frequencies, to Scotland from most principal UK cities.
With a single split in the route at Edinburgh, high speed services can also proceed across the Forth Bridge to more northerly Scottish cities such as Aberdeen and Inverness. To facilitate these new routes, HSUK plans also include the reinstatement of the abandoned Glenfarg and Strathmore routes. Together with the HSUK high speed line from Edinburgh to Glasgow, this will create an 'Inverse T' national (i.e. Scottish) intercity network focussed upon Edinburgh Airport.
For further details of HSUK's designed route to Scotland, and also projected HS2 routes, see HSUK's North Country Rail Strategy and Scottish Rail Strategy. See also more detailed mapping of proposed HSUK routes.
Details of high speed services to Scotland from most principal English and Welsh cities are given in the HSUK Service Compendium.