OUR RAILWAY NETWORK IN CRISIS – THE HSUK RESPONSE
High Speed UK (HSUK) is a design for a national high speed rail network. It has been developed by professional railway engineers to address the multiple shortcomings of HS2.
HSUK's purpose is to transform rail network connectivity and capacity, and to allow all of the UK's principal cities to be directly interlinked with high quality, high speed intercity services.
The key elements of the HSUK design are set out on this website, and are summarised in the HSUK Brochure.
The aim of the HS2 project is to deliver "hugely enhanced capacity and connectivity" between the UK's major conurbations.
These gains in rail network capacity and connectivity are essential to rebalance the UK economy and bring about step-change reductions in transport CO2 emissions. This is what HS2 is meant to do – but because its designers never bothered to design HS2 as a network, it can't deliver.
We've tested HS2's network performance against HSUK – and on every test, HS2 fails dismally. Read HS2 – High Speed to Failure
We've also evaluated HS2's performance in reducing intercity journey times across the national network, and again we've uncovered another HS2 Ltd 'epic fail'. HSUK, designed as a network and fully integrated with the existing railway system, offers far greater journey time reductions and in almost every respect massively outperforms HS2. Read HS2 – High Speed to Nowhere
We've repeatedly warned the Government and HS2 Ltd of HS2's multiple failings, and we've reiterated HSUK's vastly superior performance. But they've ignored everything they've been told. In the process they will squander at least £20 billion of public money. All this is documented in our report HS2 - High Speed Trains, Slow Speed Brains
But HS2's design failures have more serious consequences than just wasted public money. HS2 – which has been designed as a London-centric system with no thought for transpennine connectivity – will have a profound influence on the shape of Northern Powerhouse Rail – whose core rationale is to improve transpennine connectivity. The disastrous consequences of this design failure are documented in our report The Northern Poorhouse – How the Transport Establishment Failed the People of the North
The massive differences in HSUK's and HS2's network performance are set out in the diagrams below. The consequences of HS2's comprehensive connectivity failures should be obvious to any official or any politician. The Government's and HS2 Ltd's actions in pressing ahead with HS2 in its current form, and in ignoring the self-evident benefits of HSUK, are bordering on the criminal.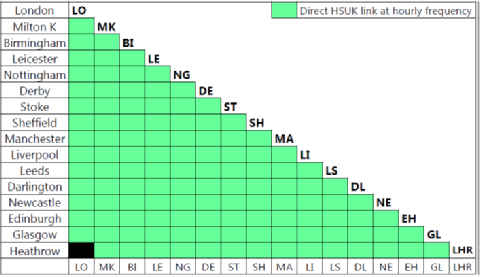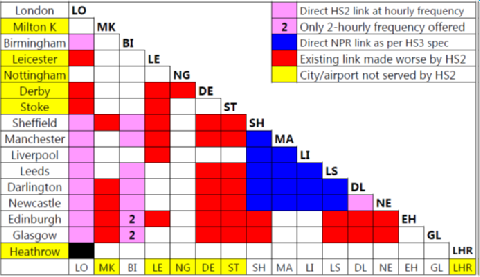 This is what high speed rail should do – interlink all of our major cities and thus "hugely enhance connectivity and capacity"….
This is what HS2 does – improve just a few London-centric journeys and make many more journeys worse, in a comprehensive connectivity failure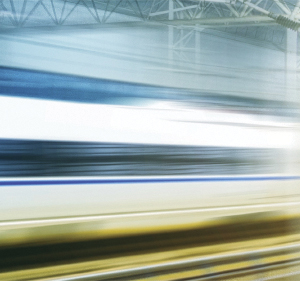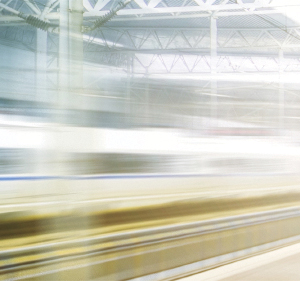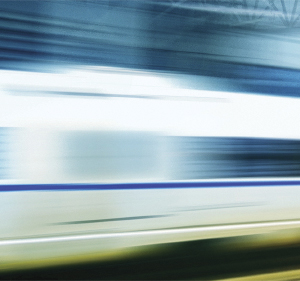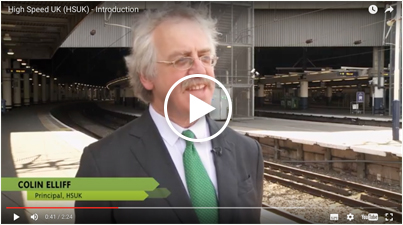 "HS2 modelling is shocking, biased and bonkers."
Margaret Hodge, Chair, Public Accounts Committee

"No economic case for HS2... it will destroy jobs and force businesses to close."
Institute of Economic Affairs






With the Prime Minister having ordered a searching review into every aspect of HS2
There has NEVER been a BETTER TIME to familiarise yourself with
High Speed UK
The viable, cost-effective alternative that (unlike HS2) will connect the nation
Please click this box to be taken to our comprehensive technical and geographical breakdown of
The HSUK Alternative