CHEAPER
£20bn less than existing plans for HS2 & HS3.
BETTER CONNECTED
Improves 94% of journeys and reduces journey time by an average of 40%.
CLEANER
Saves 600 million tonnes of CO2 and avoids the Chilterns AONB.
SMARTER
Improves regional rail across the UK and integrates with the existing rail infrastructure.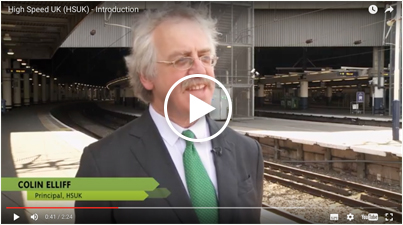 "HS2 modelling is shocking, biased and bonkers."
Margaret Hodge, Chair, Public Accounts Committee

"No economic case for HS2... it will destroy jobs and force businesses to close."
Institute of Economic Affairs




9. How can you claim that HSUK offers shorter journey times than HS2?
HSUK's journey time claims are based upon the 'demonstrator timetable' that has been developed to describe how HSUK's enhanced national network will operate. This shows how HSUK's designed blend of new high speed lines, upgraded existing routes and restored routes can cut average intercity journey times by as much as 46%. Refer to HS2 - High Speed to Nowhere for further details.
We've undertaken the same exercise on HS2, considering both the proposed new HS2 services and (where no HS2 services are proposed) residual services on the existing network. HS2 will offer spectacular journey time reductions on its few selected routes, but for the remainder (which comprise the vast majority) HS2 can do nothing to reduce journey times. This explains why only 8% average journey time reductions can be achieved under HS2 Ltd's proposals.
HS2 Ltd's failure appears to be directly linked to its ill-judged selection of a 400km/h design speed for its new-build high speed lines. It's only possible to achieve such speeds along HS2's ultra-straight and ultra-intrusive rural routes. Aside from the obvious adverse effects upon cost and environmental impact, design for 400km/h also has the effect of:
 driving HS2 away from established transport corridors; and
 preventing HS2 from being effectively integrated with the existing main line network.
The work undertaken in the development of HSUK demonstrates conclusively that on a small island such as Great Britain, integration with the existing network, rather than absolute maximum speed, is the crucial factor in optimising journey time reductions. Design for the extreme speed of 400km/h actually has the effect of reducing the speed performance of the overall network. See the HS2 Speed Paradox.
Regrettably, this readily demonstrable fact has gone entirely unrecognised by the 'experts' at HS2 Ltd and the Department for Transport.