CHEAPER
£20bn less than existing plans for HS2 & HS3.
BETTER CONNECTED
Improves 94% of journeys and reduces journey time by an average of 40%.
CLEANER
Saves 600 million tonnes of CO2 and avoids the Chilterns AONB.
SMARTER
Improves regional rail across the UK and integrates with the existing rail infrastructure.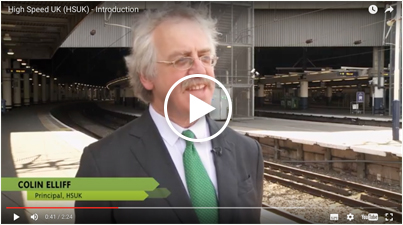 "HS2 modelling is shocking, biased and bonkers."
Margaret Hodge, Chair, Public Accounts Committee

"No economic case for HS2... it will destroy jobs and force businesses to close."
Institute of Economic Affairs




14. How can HSUK claim radically reduced transport CO2 emissions when HS2 is no better than carbon neutral?
First of all, it's necessary to consider:
 why HS2 – as the primary intervention in surface transport for perhaps half a century – fails to meet the legally-committed targets of the 2008 Climate Change Act, for an overall 80% reduction in transport CO2 emissions; and
 why HS2 – despite the fundamental efficiency of 'steel wheel on steel rail' technology – is so ineffective in reducing transport CO2 emissions.
There are certainly concerns with HS2's intended operation at the unprecedented maximum speed of 360km/h, and at the high energy use and CO2 emissions that this will cause. However, HS2's primary failure lies with its failure to integrate effectively with the existing network, and to offer the journey time savings, wider connectivity improvements and capacity gains on a sufficiently broad range of interregional journeys that would in turn encourage motorists to transfer en masse to the rail network. It is only with this sort of step-change modal shift that significant savings in transport CO2 emissions, in line with the targets of the 2008 Climate Change Act, will come about.
By contrast, HSUK's vastly superior capacity, connectivity and journey time reduction make possible the scale of modal shift that will be necessary to comply with the 2008 Climate Change Act. For further information, refer to the HSUK CO2 Challenge and High Speed Rail and CO2, aka the Alan Brooke report.