CHEAPER
£20bn less than existing plans for HS2 & HS3.
BETTER CONNECTED
Improves 94% of journeys and reduces journey time by an average of 40%.
CLEANER
Saves 600 million tonnes of CO2 and avoids the Chilterns AONB.
SMARTER
Improves regional rail across the UK and integrates with the existing rail infrastructure.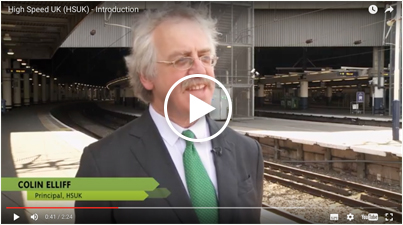 "HS2 modelling is shocking, biased and bonkers."
Margaret Hodge, Chair, Public Accounts Committee

"No economic case for HS2... it will destroy jobs and force businesses to close."
Institute of Economic Affairs




11. Why have the Government's experts at HS2 Ltd failed so badly in designing a national high speed rail network?
The basic problem is that HS2 Ltd were only ever remitted to build a high speed line (from London to the West Midlands) – they were never asked to develop the integrated national network that has always been necessary to deliver the HS2 project's core objective of "hugely enhanced capacity and connectivity" between the UK's major conurbations. No-one at HS2 Ltd appears to have either the expertise or the professionalism to recognise:
 the inability of HS2 to work in harmony with the existing railway system, and thus to bring about an optimally performing national network.
 the disastrous effects that implementation of HS2 (and the creaming-off of high value intercity traffic onto the new high speed line) will have on services to smaller cities (such as Coventry, Leicester, Derby and Stoke) which will be bypassed by HS2.
 the huge mismatch between HS2's remit (to build a high speed line) and its objective (which can only be met with a fully integrated network).
 the apparent fact that (whatever their competences in other fields) they have no competence in designing an optimised railway network.
Yet senior figures at HS2 Ltd continue to represent HS2 as a network.
HS2's failures as a network are thoroughly documented in HS2 – High Speed to Failure and HS2 – High Speed to Nowhere. They are also summarised in HS2 Ltd Network Design: Epic Fail.
By contrast, HSUK succeeds as a national intercity network because it has been designed to perform that function from the very start.