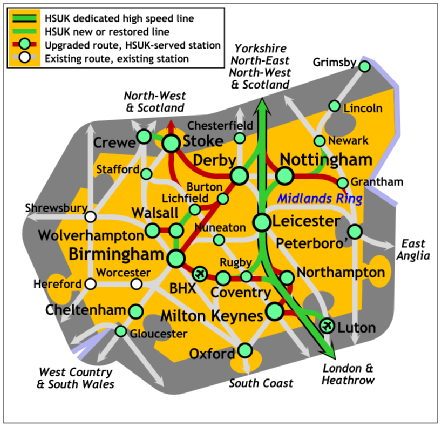 High Speed UK - Links to the Midlands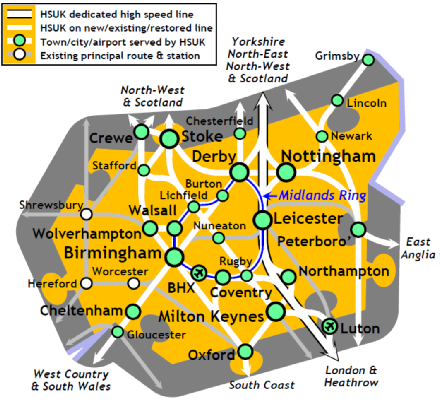 HSUK's Anglo-Scottish trunk route, closely following the M1 and fully integrated Midland and West Coast Main Lines, will transform the connectivity of all M1 Corridor communities including Luton, Milton Keynes, Northampton, Leicester, Derby and Nottingham.
In the West Midlands, a different strategy will be adopted, of 4-tracking the key radial routes (from Rugby, Derby and Wolverhampton) into Birmingham New Street, and restoring the abandoned Walsall-Lichfield route.
With these initiatives in place, all Midlands cities will see massively improved links to other UK regions.
Within the Midlands, a 'Midlands Ring' will be created, directly linking Derby, Walsall, Birmingham, Birmingham Airport, Coventry and Leicester, and transforming links between all Midlands cities.
For further information please refer to: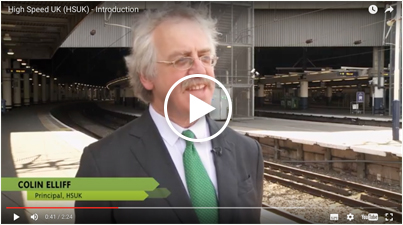 "HS2 modelling is shocking, biased and bonkers."
Margaret Hodge, Chair, Public Accounts Committee

"No economic case for HS2... it will destroy jobs and force businesses to close."
Institute of Economic Affairs




Midlands Services Diagram
Midlands Infrastructure Diagram