High Speed UK - Links to the South West
No dedicated HSUK routes are proposed within the South-West. However, HSUK's proposed 4-tracking of key West Midlands routes focussed upon Birmingham New Street, coupled with connections further north to the HSUK trunk routes, will transform links from Bristol and the West Country to other UK regions.
With these enhancements in place, HSUK will offer the following key benefits for the South-West:
 Bristol directly connected by means of high speed, high frequency and high quality services to all other UK primary cities.
 Existing Plymouth-Edinburgh service upgraded to high speed as HSUK01 and extended to Glasgow – thereby linking 7 UK primary cities.
 Direct HSUK service from Bristol & Cardiff to Heathrow.
For further information please refer to:
 N01 HSUK National Network Diagrams
 R08 HSUK West Midlands Rail Strategy
 S01 HSUK CrossCountry services
 T04 HSUK/HS2 performance compared for
Cheltenham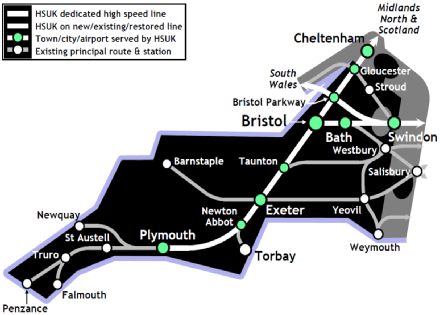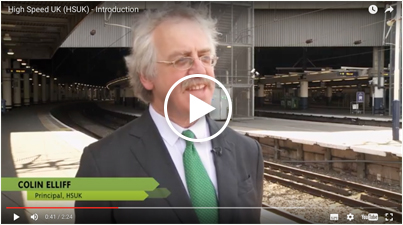 "HS2 modelling is shocking, biased and bonkers."
Margaret Hodge, Chair, Public Accounts Committee

"No economic case for HS2... it will destroy jobs and force businesses to close."
Institute of Economic Affairs